"SEMINAR "a stunning comedy,by Theresa Rebeck with gogoHeart Stage Company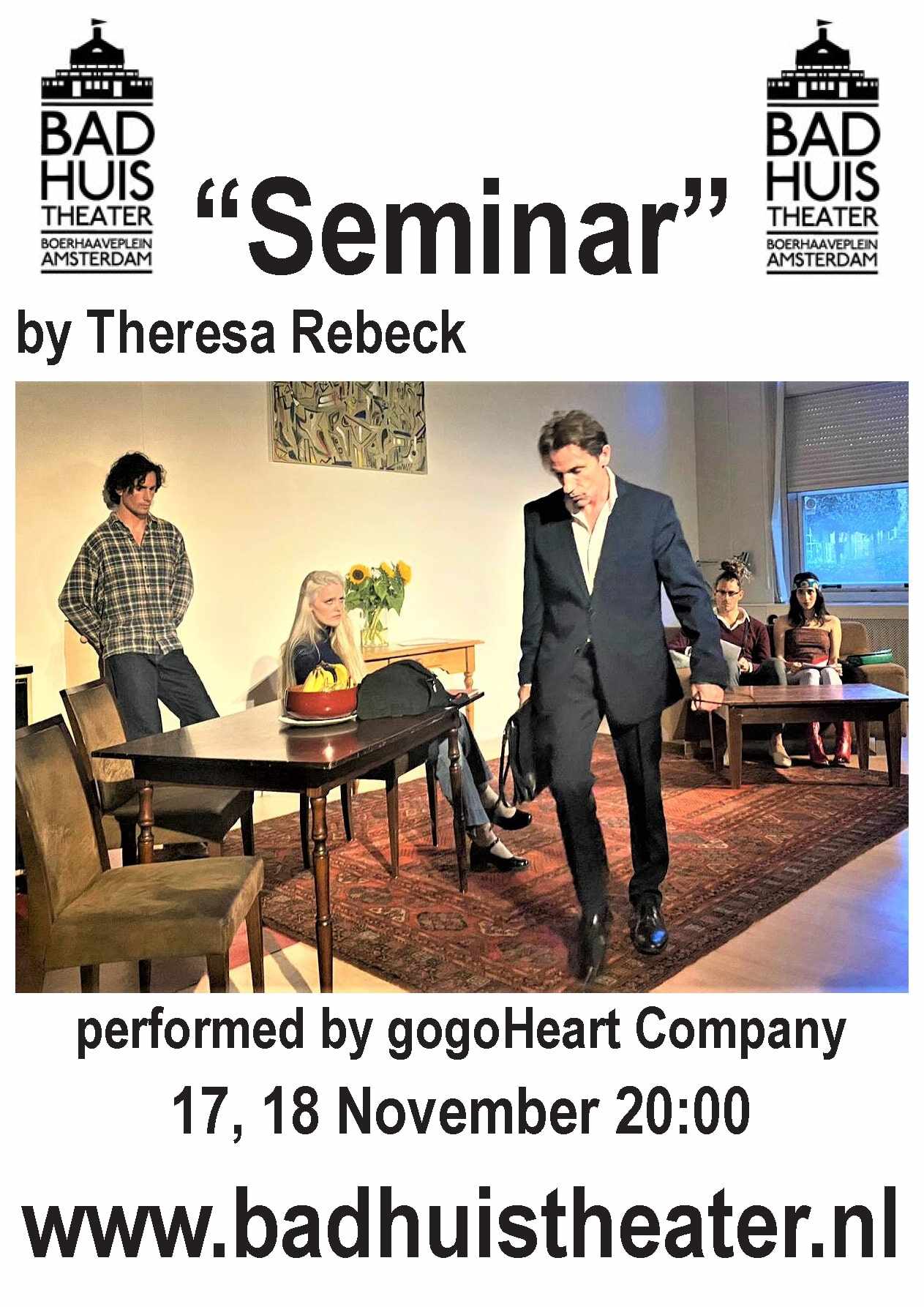 Buy Tickets
Event date(s):
17 / 11 / 2023 - 8pm
18 / 11 / 2023 - 8pm
Location:
Het Badhuistheater
English Theatre Amsterdam.
Seminar is a provoking comedy, in English , written in 2012 by the very successful American writer Theresa Rebeck.
GoGo Heart Company are bringing Great English speaking theatre to our theatre.
SEMINAR  tells the story of four young writers who each pay $5,000 for a ten-week seminar with Leonard, an international literary figure. The story begins with Kate, a well-to-do Upper West Sider with a fancy apartment who arranges the seminar for herself and three friends: Martin, her neurotic ex-boyfriend who refuses to share his work with anyone; Douglas, the well-connected prep school sweetheart; and Izzy, the gritty opportunist sexpot. Leonard's unorthodox teaching style soon pits the classmates against each other: some of them flourish under his version of tough love, while others flounder with self-doubt.
Netherlands
Seminar is een provocerende komedie, geschreven in 2012 door de heel succesvolle Amerikaanse schrijfster Theresa Rebeck.
Het vertelt het verhaal van vier jonge schrijvers, die elk  $5000 betalen voor een tien weekse seminar met Leonard, een internationaal literaire grootheid. Het verhaal begint met Kate, een keurige welgestelde dame van de "Upper West Side"; met duur appartement. Zij regelt voor haarzelf en drie vrienden de seminar. Martin, haar neurotische ex vriend, die weigert zijn werk met iemand te delen; Douglas, een middelbare school liefde; en Izzy, een opportunistische stoeipoes. Leanoard's onorthodoxe manier van lesgeven zorgt al snel voor wrijving tussen de vrienden. Sommigen hebben profijt van zijn harde aanpak, anderen worden er juist onzeker van.
CAST : 
Alex Murphy
Diego Best
Sabine Pendry
Emma Reppa
Milan van Aagten
Director and Co director : Alex Murphy/Beek Groot
---

Published: August 8, 2023

---