BadhuisInternational English Theatre in Amsterdam.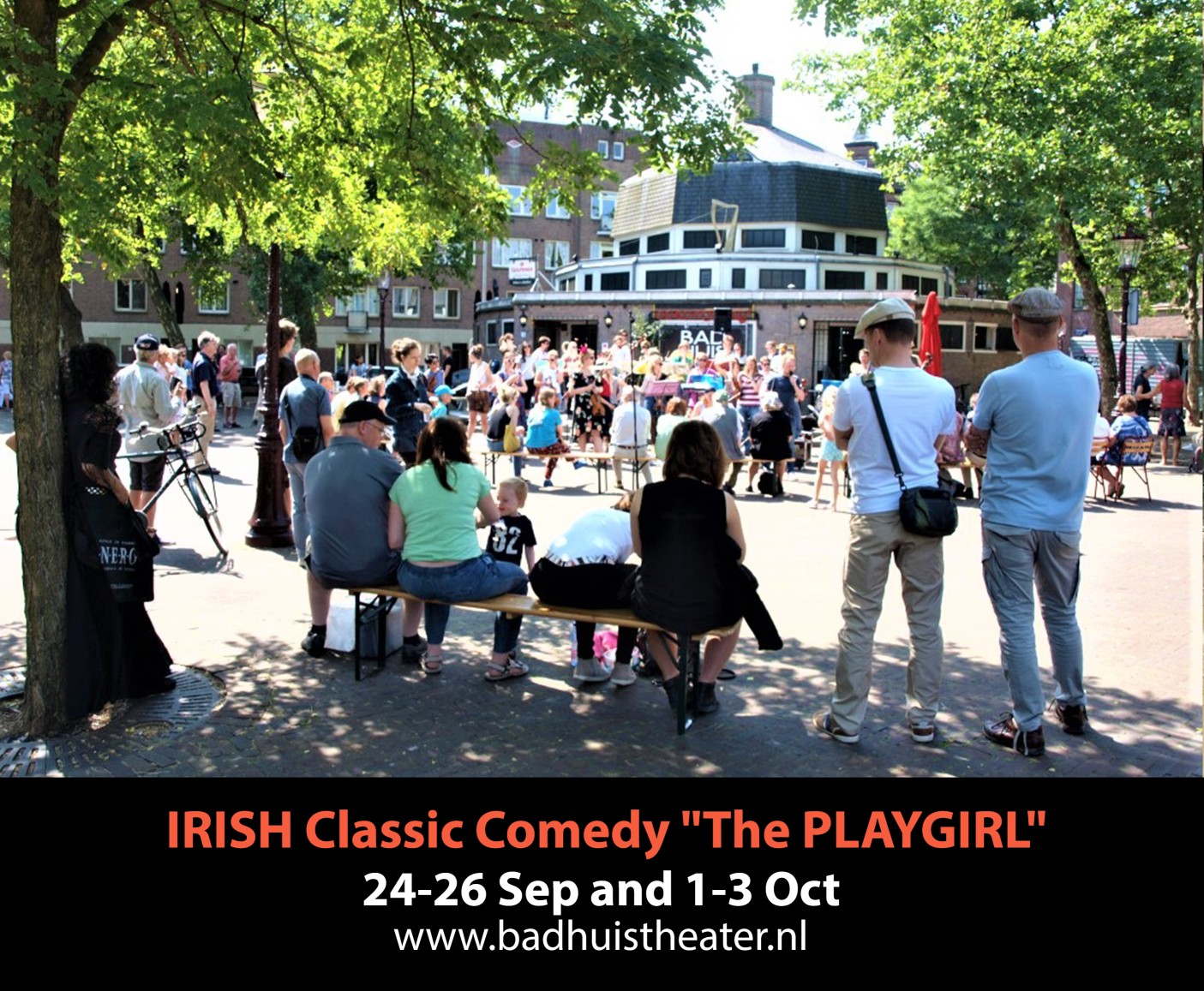 English theatre in Amsterdam
Shakespeare Karaoke Friday 25 Feb at 8pm
https://www.eventbrite.nl/e/tickets-shakespeare-karaokie-with-wil-sutton-fri-25-feb-815pm-253773983817
Here's a Few Pictures and Videos of our 
PLAYGIRL of the WESTERN WORLD
                                      by J.M. Synge.
                             Performing in Mike's Badhuistheater 
                             and many other locations.
Clip/Trailer  Oost Online
painting Jack Yeats THE RIDER
Our new adaptation "The Playgirl of The Western World", is a classic Irish theatre play about a village that is disturbed by the arrival of an outsider. The show is translated into English from the original Irish-English (Hiberno-English) version.
Synopsis:
On the west coast of County Mayo Christy Mahon stumbles into Flaherty's tavern. There he claims that he is on the run because he killed his own father by driving a  Spade into his head. Flaherty praises Christy for his boldness, and Flaherty's daughter (and the barmaid) Pegeen, falls in love with Christy, to the dismay of her betrothed, Shawn Keogh.
Nederlands 
De nieuwe bewerking "The Playgirl of The Western World" is een geweldig toneelstuk over een stadje dat wordt verstoord door de komst van een buitenstaander. 
De voorstelling is Engels gesproken en een vertaling uit het Hiberno-Engels (Iers-Engels dialect).
Synopsis: 
Aan de westkust van County Mayo strompelt Christy Mahon de taverne van Flaherty binnen. Daar beweert hij dat hij op de vlucht is omdat hij zijn eigen vader heeft vermoord door een Schep in zijn hoofd te drijven. Flaherty prijst Christy voor zijn vrijmoedigheid en Flaherty's dochter (en barmeisje), Pegeen, wordt verliefd op Christy, tot ontzetting van haar verloofde, Shawn Keogh.
Some Links from 2021
 THEATER PLAYS IN ENGLISH LANGUAGE AT OUR LOVELY AMFITHEATRE

The International theater group of Mike's Badhuistheater is called the BADHUISINTERNATIONAL and we have a repertory of  all kinds of plays-comedies in English language.
Keep scrolling and read more
The "DUCK for Xmas " Show  Dec 2020 was a great success, and different companies took part together at our theatre. 
OUR Xmas Show..if you missed .Part One the "DUCK "comedy show set in Renes Cafe in France. Part 2  Songs /from RUSALKI  Christmas Satire ,DYLAN THOMAS  "A Child's Xmas in Wales "and Sketches. D
WE ARE "MORE OPEN than Usual" like the London Blitz 
Corona is max 30 people per show.
We OFTEN do 2 shows a Nite !
CHECK some RECENT SHOWS / LINKS HERE.
https://www.youtube.com/watch?v=rjS-c4Isj-k&t=1s
https://www.badhuistheater.nl/agenda/
https://www.iamexpat.nl/lifestyle/expat-events-festivals/allo-dad-badhuistheater?fbclid=IwAR2VnKxerK4299PtwYfre_NSPYIrFzUdt54eK4-RPI8PRv8NladT9RolZjM
BLACKADDER & ALLO ALLO IN ONE:
OUR NEW SHOW  ALLO DAD was totally SOLD OUT ! 
guaranteed hilarity
watch this SPACE for all NEW events coming !
On  1st August  we played our SPECIAL OPEN AIR SHOW Blackadder meets Circus Allo Allo  at Camping ZEEBURG.
https://www.iamexpat.nl/lifestyle/expat-events-festivals/allo-dad-badhuistheater?fbclid=IwAR3rNnYU0kKBBPz35QbwTSdtLTKOHNoDZft7hejvOGZ5FtdDy2AMW2MxNak
Link to REVIEW SVEJK Oost Online November 2019
FOR other  LOVELY ENGLISH SHOWS KEEP SCROLLING DOWN :
COMEDY Shakespeare "Henry 5th and Fools "
One man Show with Alex "Reckless" D. Baggett.
" ALLO DAD " 
English
Our Own Company, BadhuisInternational has gone Brexit Barmy.!
ALLO DAD  
Part One  /  In France 1942
Rene is forced to send a Long distance Duck to England, with Hitler's Invasion Plans.
Part Two / England South Coast 1942
Captain Mainwaring is rehearsing a Traditional English Folk dance to raise money
to buy a SPITFIRE to attack the fascist Invaders. All Plans
both sides of the English Channel will fail. Guaranteed Hilarity.
The actors of BadhuisInternational wil play French and English characters
on the same Night.!
The Badhuis is the place for ENGLISH THEATRE  in Amsterdam.
 BadhuisInternational
makes at least 4 -6   NEW full shows in English every year.
2018 ,2019, 2020  saw 16 SOLD OUT shows from our own company 
(see PhotoGallery on this website)
Entertaining Mr Sloane / Blackadder Part 2 .
2019 was even better ! The Good Soldier SVEJK Part 1  @  8 NEW Episodes of ALLO  ALLO.
https://oost-online.nl/onbekende-en-niet-eerder-gespeelde-episodes-van-allo-allo-in-badhuistheater
70%  of  our 60 SHOWS !  in 2019  were  SOLD OUT  Theatre Plays .
And More than 60% of the Theater's income comes from Theater Tickets / @Horeca  from  BadhuisInternational . 
In 2021/2 we are organizing an International Amateur theater Festival
We are An English Spoken Repertory Theatre .
(we also Host International Companies in Many different languages)
Reserve a  reduced Seat or Mail Us for Extra INFO :
email : Badhuistheater@gmail.com.
ENGLISH:
The Best English Comedy Theatre
Why "International"?
Because we are a truly international group.  Our actors come from the Netherlands, the UK, Ireland, Italy, Bulgaria, Slovakia, Russia, Norway and Portugal.Poland , Hungary, Cyprus  Together with our Dutch, British, Afghan, Turkish, Brazilian and Czech stage crew we bring you great English language theater experiences.
But local too, right?
Yes! The Badhuis International invests in training up young and aspiring actors, and energizes our community by bringing younger and more mature actors together through English theater. The company TRAINS and workshops every week all year long.
What kind of English-language theater do you do?
We work to share the joys of English-language writers with our Dutch and international audience.
We perform classic English television comedies, Irish tragedies and much more.
And we remind people of the wonder of live theater.
Blackadder ! parts One and Two ,
'Allo 'Allo, plus the UNKNOWN episodes ,  Entertaining Mr. Sloane,
The Good Soldier SVEJK Part One.
Sean O'Casey's Dublin trilogy (yep, all of them!),
Ulysees and Under Milk Wood.
MORE OF Our work:
English Language theatre in Amsterdam
some videos from SHOWS form the last few Years.
Entertaining Mr.Sloane promo