PRESS
EN: Welcome to our PRESS page where we are sharing what media has published/wrote/said/filmed about our lovely Theater 🙂
NL: Welkom op onze PERS-pagina waar we delen wat de media hebben gepubliceerd / geschreven / gezegd / gefilmd over ons mooie theater 🙂
2023:
Flower Power activities in our neighborhood and more (EN):
February Iamsterdam :
2022:
12-2022 HET PAROOL (NL):
NEWSFEED 11/12-2022 (EN):
8/9-2022 OPEN MONUMENTEN DAG (NL):
HET PAROOL (NL) 05-2022:
VIDEO SHORTCUT FROM THIS EVENT – Theater Benefit for Ukraine Gogol's "Government Inspector " HERE:
"Tuschinski" 1-20.3.2022 (NL):
tuschinski @badhuistheater from badhuistheater on Vimeo.
HERE VIDEO SHORTCUT FROM THE TUSCHINSKI EVENT
2021:
Moeder Van Glas (NL) 15-17.10.2021:
30.8.2021 NL:
6-8.8.2021 Barrie Stevens " I am an Artist " pride Amsterdam performances (EN,NL):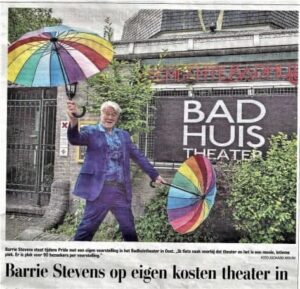 JUNE 2021 Iamsterdam.nl  (EN,NL) promotes are shows of the PlayGirl of the Western World 🙂
12.04.2021 (EN, NL) OOST-ONLINE.NL about the PlayGirl of the Western World theater: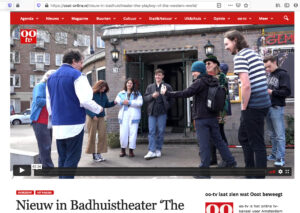 see the video and read the article HERE
19.01.2021 (EN): Introducing the "Making Invisible Theaters Visible" movement:
02.02.2021 February Newsfeed from our Theater (EN) :
January news about the Making the Invisible Theaters Visible (EN) project:
YEAR 2020:
18.11.2020 (EN): VOTE FOR MIKE to the boar of EA:
Here is a link on FACEBOOK
LISTEN – LIKE – SHARE – CHEER AND SUPPORT OUR DEAREST MIKIE!!
BIG THANKS TO ALL OF YOU 🙂
16.11.2020 IAMSTERDAM.COM (NL):
9.10.2020 Culture Lab Europe Podcast (EN):
6.10.2020 (NL) Oost TV:
8.8.2020 (NL) Oost TV:
2.7.2020 Het Parool (NL)

10.5.2020 LIVE STREAMING BADKAST in CORONA TIMES (EN):
2.5.2020 THE WILD ANIMALS ARE BACK ON BOERHAAVEPLEIN :
2020 PETITION TO SUPPORT MIKE'S BADHUISTHEATER
3.4.2020 Het Parool (NL) click here
5
YEAR 2019:
5.12.2019 INTERNATIONAL THEATER STUDENT GROUP ETG (EN):
13.11.2019 (NL) Oost TV: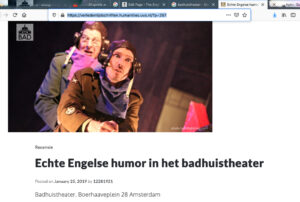 YEAR 2018:
3.7.2018 (EN) Badhuistheater International: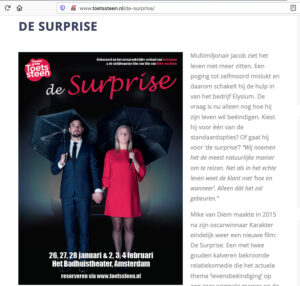 YEAR 2017:
29.9.2017 MUSIC DAY PRAGUE AMSTERDAM FESTIVAL:
YEAR 2016:
13.9.2016 (EN) Premiere of DOOM BEAUTY (czech documentary):
20.8.2016 (EN) about our director Michael Manicardi:
2.3.2016 Movie premiere of Czech film "PRACH A BROKY":
26.2.2016 Het Parool (NL):
YEAR 2015:
29.9.2015 Oosterpark OPENING (EN):
YEAR 2013 and older years…keep scrolling down:
25.10.2013 Theater Pleinen Festival:
25.5.2013 Psi Vojaci (last concert of this legendary Czech Band) (CZ):
26.6.2012 (NL) Water Bij De Wibaut premier:
LONG/LANG TIME AGO!!!! 😉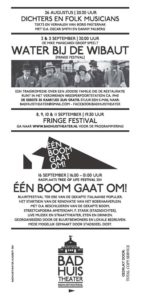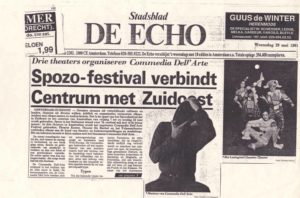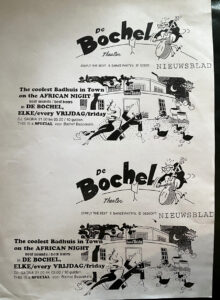 13.4.1987 (NL):
14.5.1986 Her Parool (NL):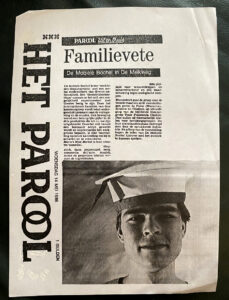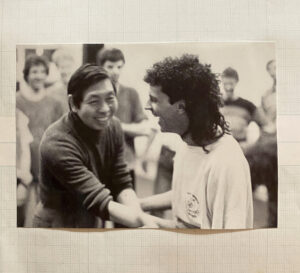 3.6.1985 (PL):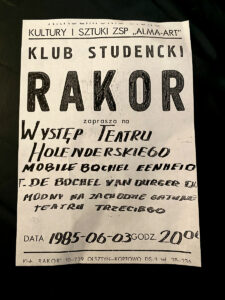 POLISH NEWSPAPERS (PL):