NEW episodes in Feb "ALLO ALLO" oa. The PoliceMan Cometh!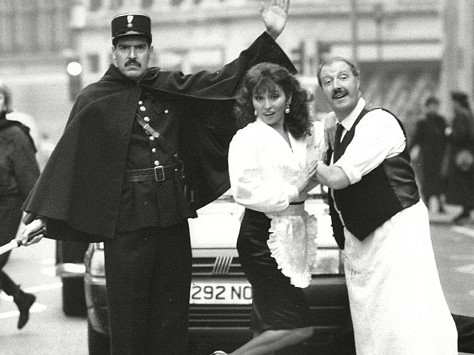 Buy Tickets
Event date(s):
22 / 02 / 2019 - 20:15
23 / 02 / 2019 - 20:15
24 / 02 / 2019 - 16:00
Location:
Het Badhuistheater
ENGLISH
The Return of our Great ENGLISH COMEDY THEATRE  Show in Amsterdam
Back on Friday 22-24 February  .Mikes Badhuistheater will bring  Monthly performances of the best of the First Pilot Episodes. The Story Lines in the Pilot Episodes Part 3 and 4 , (the last and best series  Lloyd and Croft wrote) were creative and original, and each episode is Unique. And there is a special enjoyment to watch the development of the Story,  English theatre at its Best !
NEDERLANDS
Mikes Badhuistheater en BadhuisInternational brengen nieuwe episodes van het bekende TV series..
nooit vroeger op het toneel gezien. we gaan maandelijks voorstellingen spelen van de beste afleveringen van de eerste pilot. De verhaallijn is creatief en origineel en daarom is elke aflevering uniek. In de afleveringen ontwikkelt het verhaal zich. Dit vertalen wij naar meerdere voorstellingen. In februari gaan wij door met aflevering drie en vier.
https://oost-online.nl/engelse-humor-in-het-badhuistheater/?fbclid=IwAR3jvCKMxAbjckriKr8t_s4xcz-bE4zdGk-bpGAcHQ8un3I291Z155XdYPc
Onbekende en niet eerder gespeelde episodes van Allo Allo in Badhuistheater
ENGLISH Comedy Theatre in Amsterdam 
TICKETS     www.badhuistheater.nl        Tickets
Review January 2019 by Tom Wigham  of the Unknown Allo Allo Episodes
Holidays over, dinners eaten, money spent: the final winter months can seem bleak, with only dark evenings and cold days on offer. For those in need of escape, Mike's Badhuis is currently staging a British comedy which might well transport you away from those drab January days.
Welcome to café Renee: a simple cafe in wartime France, with checked tablecloths and cheap cigars, frequented by both the locals and the German occupiers, not to mention the French resistance, escaping British airmen, and some suspicious-looking onion sellers. Owner Renee struggles to navigate the complex web of intrigue in which he finds himself entangled, running errands for the Nazis while also in cahoots with Michelle of the French resistance. Between sheltering the British airmen, stocking explosives, and hiding forged copies of the legendary Fallen Madonna with the Big Boobies by van Klomp, Renee is unlikely to find any of that peace and quiet he longs for – except, perhaps, for a brief rendezvous with his serving girls…
Mike's Badhuis has developed something of a penchant for British comedy, having previously performed the stage adaptation of Allo Allo and several episodes of Blackadder Goes Forth. What's different this time, though, is a return to the largely unknown pilot episodes. Allo Allo was originally conceived as a satire of an earlier BBC drama called Secret Army, which similarly followed the exploits of a café owner in the dark times of the Nazis (though switching wartime France for wartime Belgium). So, Mike's group was on familiar territory, but would they be able to keep it fresh?
The answer was a resounding yes, and our evening at the Badhuis was thoroughly enjoyable. Not content to rest on old successes, Mike's old hands have largely been assigned to new roles, so there's no room for complacency in the performances, and there are a few new actors to join the cast as well. Renee's mother-in-law screeches from the rafters, Edith terrorizes the café with her singing, and Herr Flick woos Helga with his particular Gestapo charm. In short, there are top-notch performances and plenty of laughs
Part of the charm of the evening is the venue itself. The Badhuis takes its name from earlier days, when the building served as a small public baths on the Boerhaveplein. It makes for an intimate setting: wherever you are in the audience, it won't be more than a few metres from the action on stage. The audience finds itself practically inside café Renee, and some creative use of the space above the stage adds an extra dimension for the audience in this new performance. The Badhuis has a cosy bar, worthy of café Renee itself, and it's a good idea to stay for a drink afterwards: more often than not you'll be able to chat to the actors and find out more about the process behind the performance. Keep an eye out for Mike who's happy to wax lyrical about the original TV series.
So, to beat the winter blues, I can heartily recommend taking yourself over to the Boerhaveplein for the company of café Renee. You'll have a cracking time.
Listen very carefully, I will say this only once: Allo Allo is playing on 25 and 26 january , and they will go further  with Parts 3 and 4  on 22,23 and 24 February.
---

Published: October 31, 2018

---