The Unknown "ALLO ALLO" /EXTRA Shows/ REPRISE 25@26 Januari !!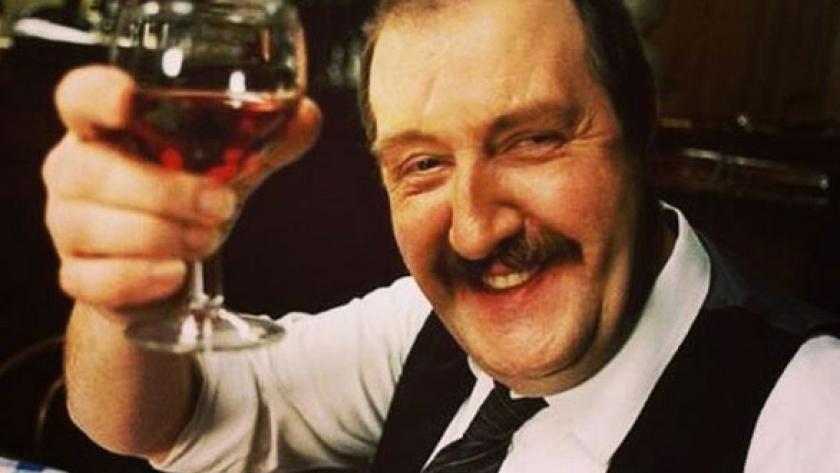 Buy Tickets
Event date(s):
25 / 01 / 2019 - 20:15
26 / 01 / 2019 - 20:15
Location:
Het Badhuistheater
ENGLISH THEATRE  in Amsterdam
Our Great New Show will be back on Friday 25 and Saterday 26 January in the New Year .
NEDERLANDS
Mikes Badhuistheater en BadhuisInternational brengen nieuwe episodes van het bekende TV series..
nooit vroeger op het toneel gezien.
Onbekende en niet eerder gespeelde episodes van Allo Allo in Badhuistheater
ENGLISH Theatre in Amsterdam 
TICKETS     www.badhuistheater.nl        Tickets
NEDERLANDS
Het is 1942 ,In het op een bestaand Frans dorp gebaseerde plaatsje Nouvion woont René Artois . Hij is de eigenaar van het plaatselijke café samen met zijn vrouw Edith. Hij heeft buiten haar weten om relaties met allebei de serveersters in het café, Yvette en Maria.
https://oost-online.nl/engelse-humor-in-het-badhuistheater/?fbclid=IwAR3jvCKMxAbjckriKr8t_s4xcz-bE4zdGk-bpGAcHQ8un3I291Z155XdYPc
Het rustige leventje van René wordt op zijn kop gezet door het uitbreken van de Tweede Wereldoorlog. Zo goed en zo kwaad als het gaat probeert hij echter zijn oude leven voort te zetten, door de Duitsers te paaien met af en toe een gratis drankje en gratis "diensten" van zijn serveersters, in ruil voor moeilijk verkrijgbare artikelen zoals paraffine, suiker en boter.
Rond dezelfde tijd raakt René tegen wil en dank betrokken bij de activiteiten van het Franse verzet, dat zijn café als uitvalsbasis gebruikt om twee neergehaalde Engelse piloten terug te smokkelen naar Engeland. René moet wel meewerken omdat het verzet hem anders dreigt om te brengen wegens het bedienen van Duitsers in zijn café. Het verzet installeert tevens een geheime radio in het bed van Ediths moeder waarmee René contact kan houden met Londen.
Rene is in Big Trouble !   (Foto Shirley Blake) Ken Kitchen and Stein Janssen.
ENGLISH
2 New Episodes .. never seen on the Stage before.
More Misery for poor Rene Artois, in Occupied France in 1942,
His guests have terrible ambitions..Some financial swindling is in Proces.
Hard Times in the Horeca in France for Rene Artois /Ken Kitchen ..what his Customers get up to and Talk about .!
25 @26 Januari 2019  . www.badhuistheater.nl Tickets
Helga / Katarinka Barč sees Heer FLICK / Jimi Rocco as a good chance to move up in the Party. Poor Rene Artois / Ken Kitchen sells wine to his Occupiers and Dangerous Customers Stein Janssen and Jared Penner.. come and Join our Xmas Show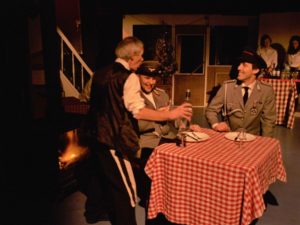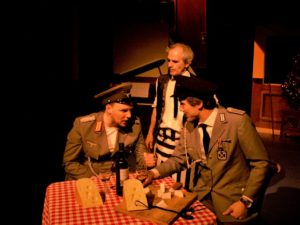 ---

Published: October 31, 2018

---