The SCARPERER by Brendan Behan. A new Benefit production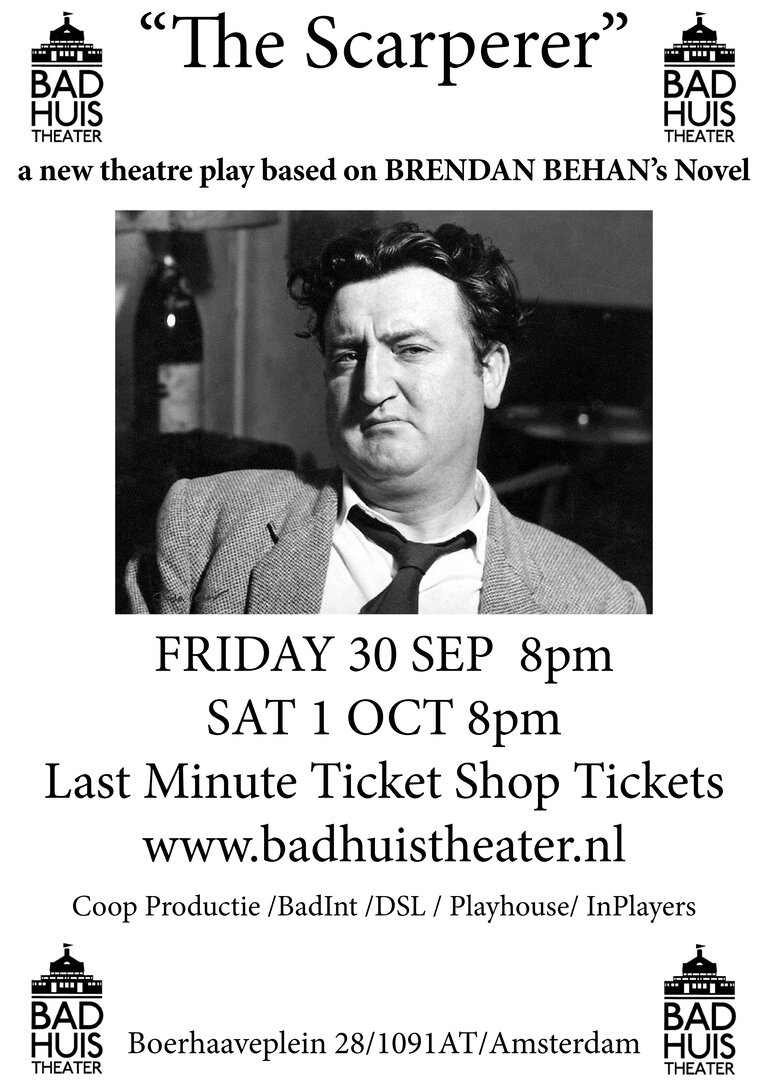 Buy Tickets
Event date(s):
30 / 09 / 2022 - 8pm
01 / 10 / 2022 - 8pm
Location:
Het Badhuistheater
ENGLISH:
New Benefit Production at the Badht,  a theater adaptation of an Early Novel by 
Brendan Behan, the SCARPERER.1953  written under the Pseudonym, Emmet Street.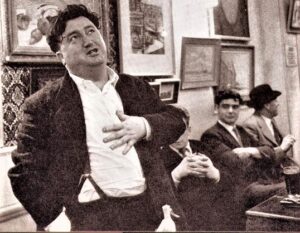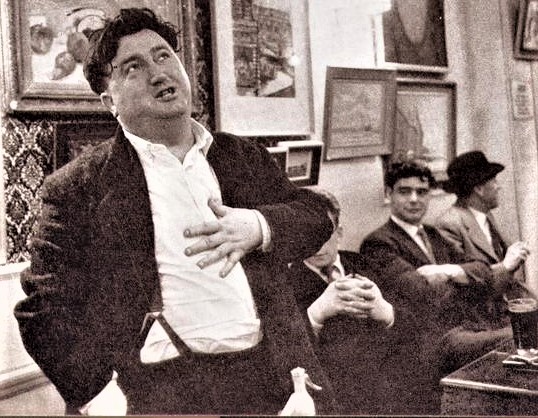 … the notorious Irish writer .
Brendan Behan 1923 – 1964 was an Irish poet, short story writer, novelist playwright, and Irish Republican activist who wrote in both English and Irish.
                                                                       Napoleon in Paris with Brendan in 1950
The SCARPERER is a noire, dramatic crime /comedy set in Dublin, the Aran islands, and Paris in 1953 ,and on the North Sea . It's almost completely unknown and our theatrical version is new, definitely as a Play, full of wonderful characters and fun ,for which he was so famous . 2 nights with folk songs and live music , costumes and lites etc, but essentially ,with books , a dramatic reading.
We will work with the same actors who took part in the Gogol Benefit "The Inspector General."
We will again raise money from the tickets for medical support for the victims of the war in Ukraine. Come enjoy the 100 years birthday of Brendan Behan. It is a co production with Downstage Left and Inplayers and Badhuis International.
And read his Novel "The Borstal Boy" if you have some time .The story of a young Irish boy growing up in a British prison during the 2nd world war.
Lots of female and male characters. Great Fun.
Brendan wrote this serialized novel in 1953 for the Irish Times Newspaper , every day with 30 installments , ( like Dickens) before all his more famous exploits and books . Just after he was released after 8 years (from the age of 16 years , in British and Irish jails. It was written under a Pseudonym," Emmet Street."
( a street in the Dublin neighbourhood where Brendan was brought up)
a "Scarperer " is a professional criminal, specialized in getting prisoners out of jails. Behan, a young idealistic kid 16 years old, got caught trying to secure the release of an IRA prisoner ,and George Blake ( the spy) also escaped in the same way.
Brendan's other books and plays, "The Quare Fellow" (an Irish prison on the eye of a hanging) and "The Hostage" (a Cockney soldier held in a Dublin brothel), came later in 1956 and 1959, both edited and produced by Joan Littlewood, the wonderful female director /theatre manager ,who never got a penny of subsidy from the British government, both hits and both already permanent parts of English theater. In this period of history , English society , which was always a bit strange and still is 🙂 , had capital punishment for some crimes and long jail sentences for homosexuals.
Brendan had great difficulty adapting from poverty to fame. He died at 41 from alcoholism.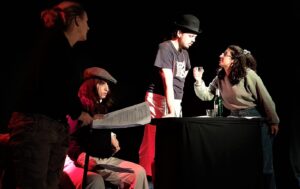 The Shakey Man PUB in Dublin
NEDERLANDS:
Het Badhuistheater in samenwerking met Downstage Left en  InPlayers, en andere theatergezelschappen hebben een association of international theater companies opgericht. Één van hun eerste grote successen was 'The inspector General' door 'Gogol'. De kaartverkoop ging naar een medische stichting voor oorlogsslachtoffers in Oekraïne. Veel bezoekers kwamen hier op af en de voorstelling was grotendeels geïmproviseerd met tekst in de hand. We hebben kostuums en licht gebruikt. Als vervolg gaan we in september een nieuwe serie voorstellingen maken voor ons publiek.

The Scarperer…. een nieuwe bewerking van een roman van Brendan Behan uit 1953.
Een nieuwe productie in het Badhuistheater, gebaseerd op "The Scarperer" Geschreven onder het pseudoniem 'Emmet Street' in the Irish Times als een 30 daagse series. (Dit was een straat naast Brendan's geboorteplaats).

Twee avonden met volksliedjes en live muziek, kostuums en lichten, maar in essentie met boeken, dramatische lezingen, en we gaan er weer een Benefiet van maken en geld inzamelen voor medische hulp voor Oekraïne. De volle zalen en grote successen van het Gogol benefiet op 15 mei, en de straat show op 5 mei over oorlog, liggen ons nog steeds dicht aan het hart.

Brendan's voorstellingen "The Quare Fellow" en "The Hostage" (een cockney soldaat vastgehouden in een Iers bordeel), kwamen uit in 1956 en 1959. Beide aangepast en geproduceerd door Joan Littlewood (Een briljante regisseuse die haar eigen theater in East 15 Londen gerund heeft, maar geen cent overheidssteun ontvangen heeft ), beide grote hits, en beide al permanent deel van het Engelse theater. In deze periode van geschiedenis, de Engelse maatschappij (altijd al een beetje vreemd .. ), legde grootse straffen, en lange gevangenisstraffen op 'misdaden' als homosexualiteit.

Brendan schreef deze serie anoniem in 1953, vóór al zijn meer bekende stukken, vlak nadat hij er een 8 jarige gevangenisstraf op had zitten (waar hij zat vanaf zijn 16e).

Een 'Scarperer' is een professionele crimineel, gespecialiseerd in gevangenen helpen ontsnappen uit de gevangenis. Behan, een jonge jongen van 16 jaar oud, werd gepakt tijdens het proberen uit te breken van een IRA (Irish Republican Army) gevangene. En George Blake (de spion) is ook op deze manier ontsnapt.

THE SCARPERER is een dramatische misdaad komedie. Het speelt zich af in Dublin en Parijs in 1953, en op de Noordzee en de Aran Eilanden. Het is een vrij onbekend en nieuw , vooral door onze nieuwe theatrale bewerking, vol met prachtige karakters en veel grappige momenten, waar de schrijver zo bekend om stond. (Als je een keer een avondje vrij bent, lees dan eens zijn boek "The Borstal Boy")
Tickets
https://www.eventbrite.nl/e/tickets-the-scarperer-van-brendan-behan-374230853557
https://www.eventbrite.nl/e/tickets-the-scarperer-van-brendan-behan-374230873617
WELCOME VIDEO:
INTRO of CHARACTERS VIDEO:
---
---