Carlos TRAFIC Absurd Teatro. met Grainne DELANEY " CATHARSIS "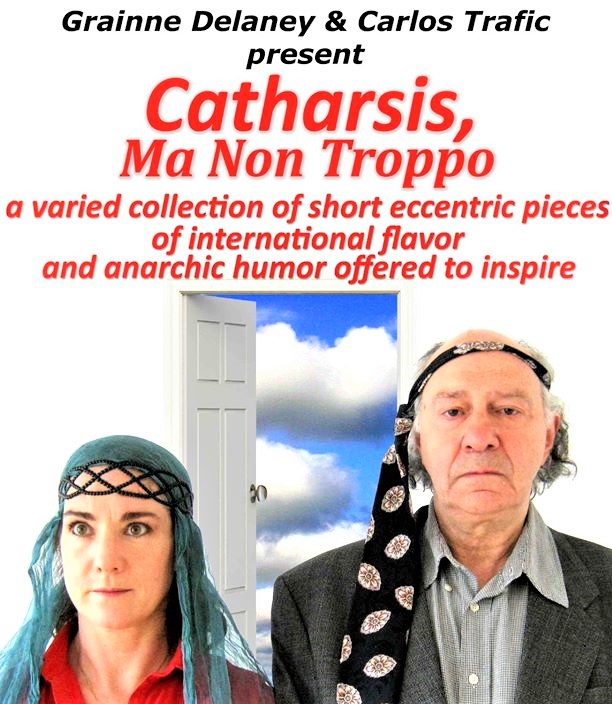 Buy Tickets
Event date(s):
14 / 03 / 2020 - 20:15
Location:
Het Badhuistheater
Catharsis, Ma Non Troppo.
Nederlands
De Argentijnse acteur Carlos Trafic en de Ierse actrice Grainne Delaney, beiden
wonend in Amsterdam, spelen  het toneelstuk Catharsis. Ma Non Troppo.
Het is een stuk vol verrassingen, onverwachte wendingen, vol humor en zeer
geloofwaardig gespeeld door deze klassiek geschoolde acteurs. Er werd geput uit het
werk van Botho Strauss, Ken Campbell, David Ives en Sofokles.
English
Can Robert get rid of his mother by laying an egg? Can scientists really discover how to record dreams? How can one machine seduce another? Will Sandra's husband successfully disappear?
A varied collection of short eccentric pieces of international flavor and anarchic humor offered to inspire catharsis, ('Ma Non Troppo')
Your psycho-spiritual Hosts, Carlos Trafic (Argentina) & Grainne Delaney, (IR), juggle with intelligent research, absurd characters and each other, to present a program of entertaining truth.
---

Published: February 7, 2020

---