EXTRA Matinee Sat 12 June. 3.30pm "The PLAYGIRL" 18,19,20 June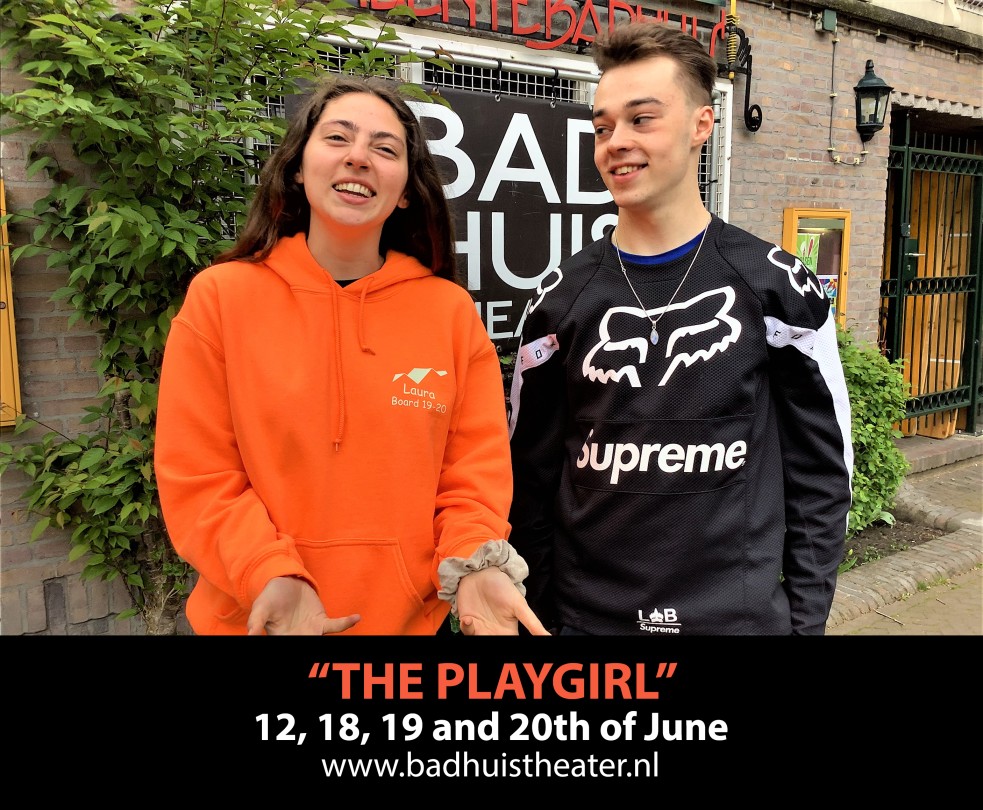 Buy Tickets
Event date(s):
12 / 06 / 2021 - 3.30 pm
18 / 06 / 2021 - 8 pm
19 / 06 / 2021 - 8 pm
20 / 06 / 2021 - 2 pm
Location:
Het Badhuistheater
Link to TEASER 
The Government says we can OPEN only from 9 June, so we have to delay the Premiere of our NEW Classic Irish Comedy, "The PlayGIRL of the Western World"
But we will do an EXTRA MATINEE on Saturday 12 June at 3.30pm.  
Also :
 Friday 18 June 8pm,  Saturday 19 June  evening 8pm, 
PLUS SPECIAL TIME  on Sunday 20 June.  2pm matinee 
Nederlands 
De Playboy of the Western World is een toneelstuk in drie bedrijven, geschreven door de Ierse toneelschrijver John Millington Synge en voor het eerst opgevoerd in het Abbey Theatre, Dublin, op 26 januari 1907. Het speelt zich af in het café van Michael James Flaherty in County Mayo (aan de west kust van Ierland) tijdens de vroege jaren 1900. Het vertelt het verhaal van Christy Mahon, een jonge man die vlucht van zijn boerderij en beweert dat hij zijn vader heeft vermoord.
English
in a new English Translation from the Irish /English  Classic.
Synopsis
When a mysterious stranger seeks shelter in a remote village in County Mayo he quickly beguiles the locals with his tall and dramatic tale of bravery in the face of danger. As his confidence grows, the local men gather round to hear of his adventures and the girls to catch his attention. When his tale turns out to be less exciting or real than they first thought, the simmering resentment of the villagers threatens his life and liberty. This lyrical masterpiece skilfully blends elements of comedy, tragedy and farce and has forever established Synge's reputation as one of Ireland's greatest writers. His Influence is to be seen in Sean o'Casey and Samuel Beckett.
It was a difficult political and cultural environment of nationalist  Ireland under British control, in 1905 , when John Millington Synge, a Protestant,  travelled to the west coast and came upon a pre-industrialised, oral culture that was fast disappearing.
Riots occurred in January 1907 during and following the opening performance of the play. The riots were stirred up by Irish Catholic nationalists and republicans who viewed the contents of the play as an offence to public morals and an insult against Ireland.
https://en.wikipedia.org/wiki/The Playboy of the Western World 
---
---